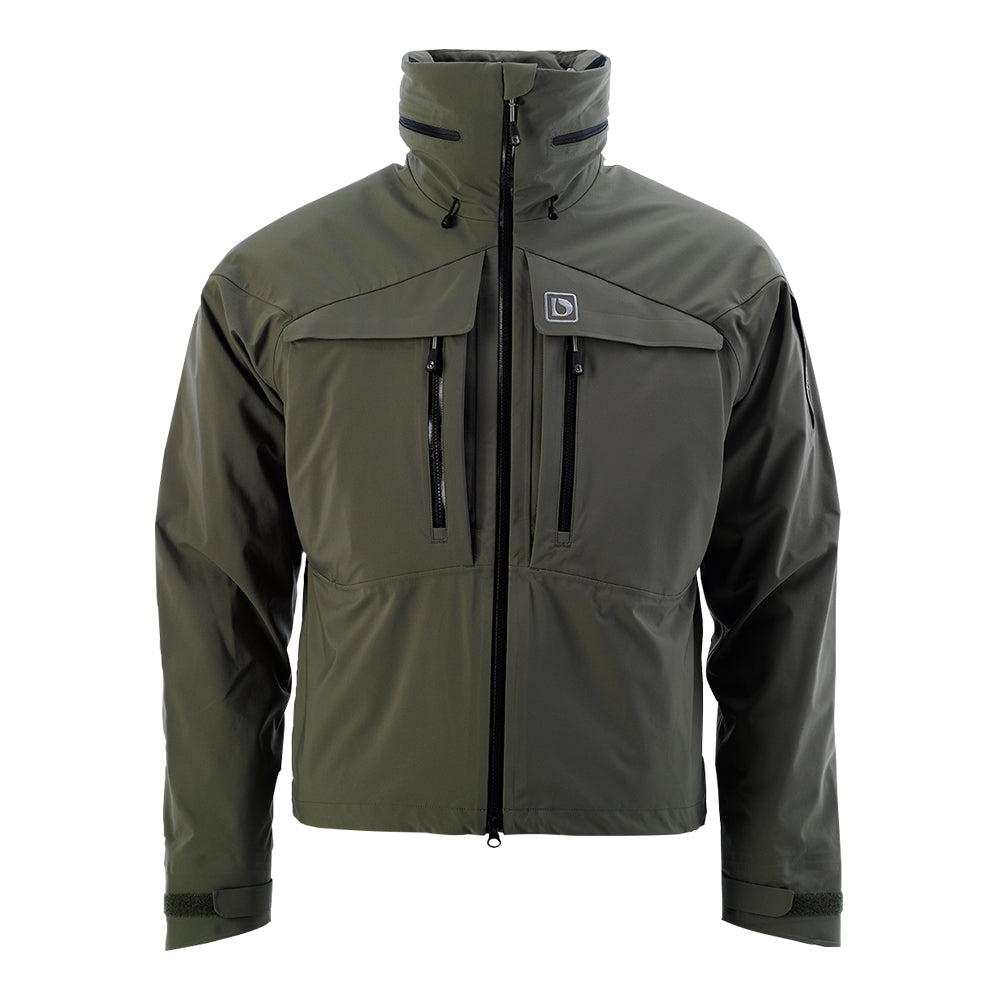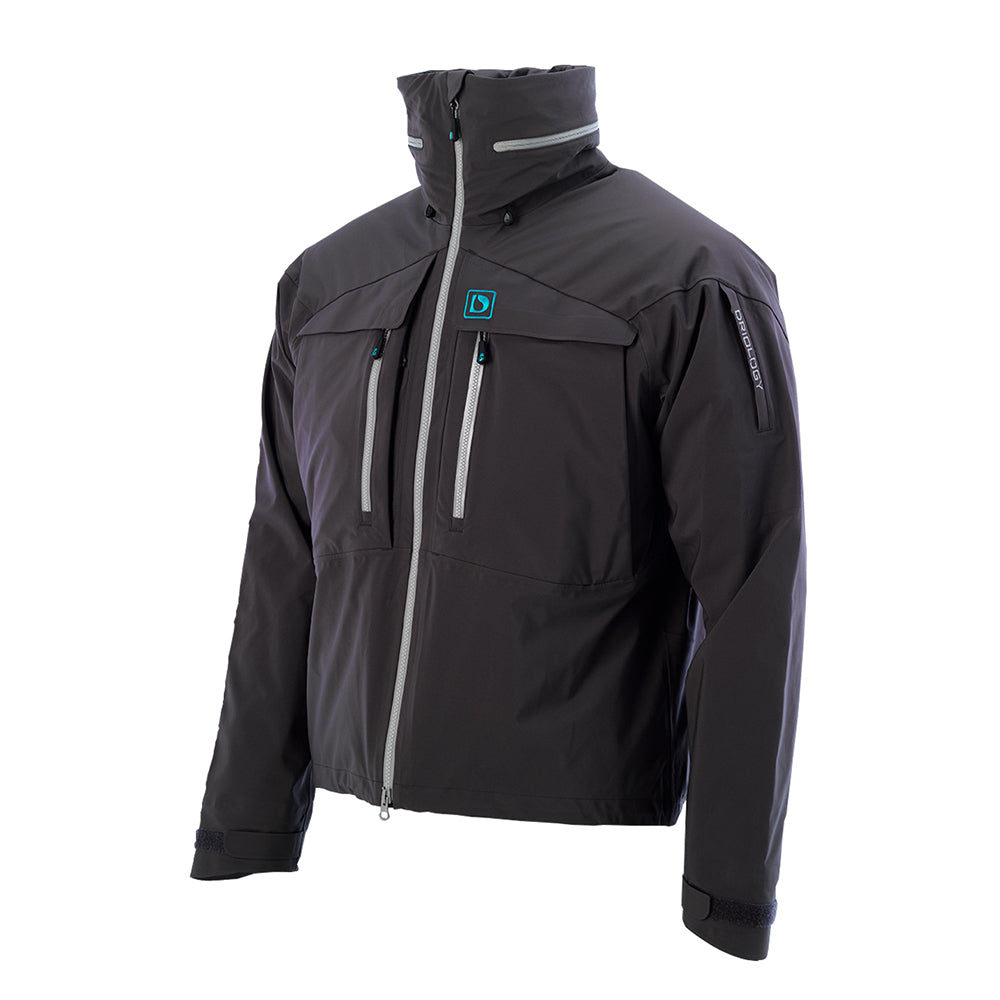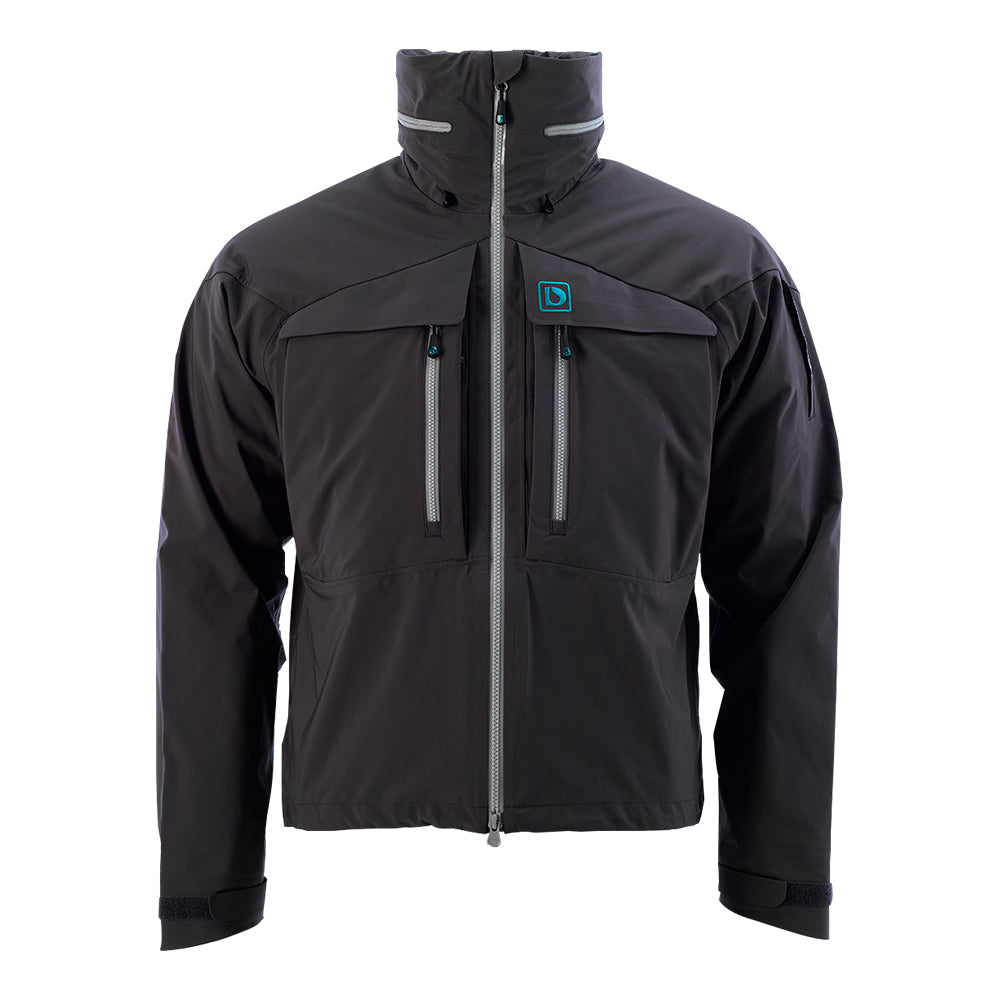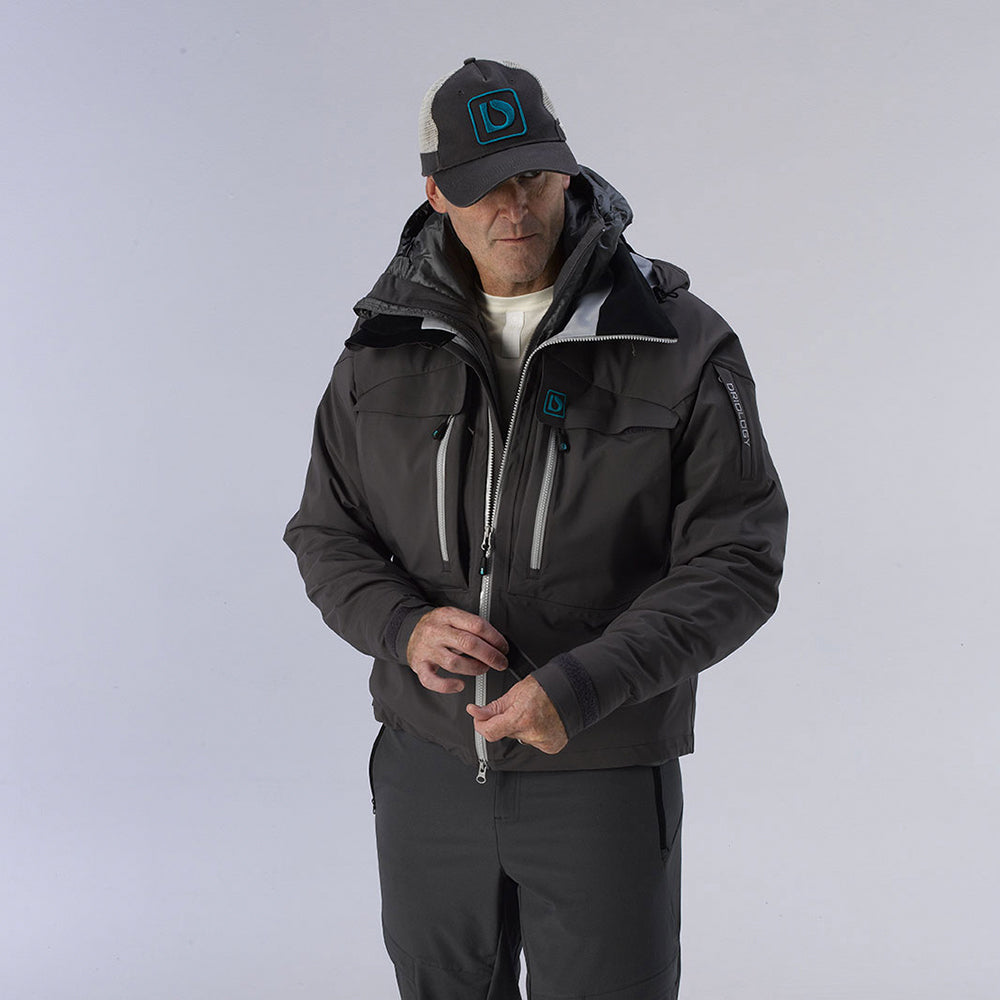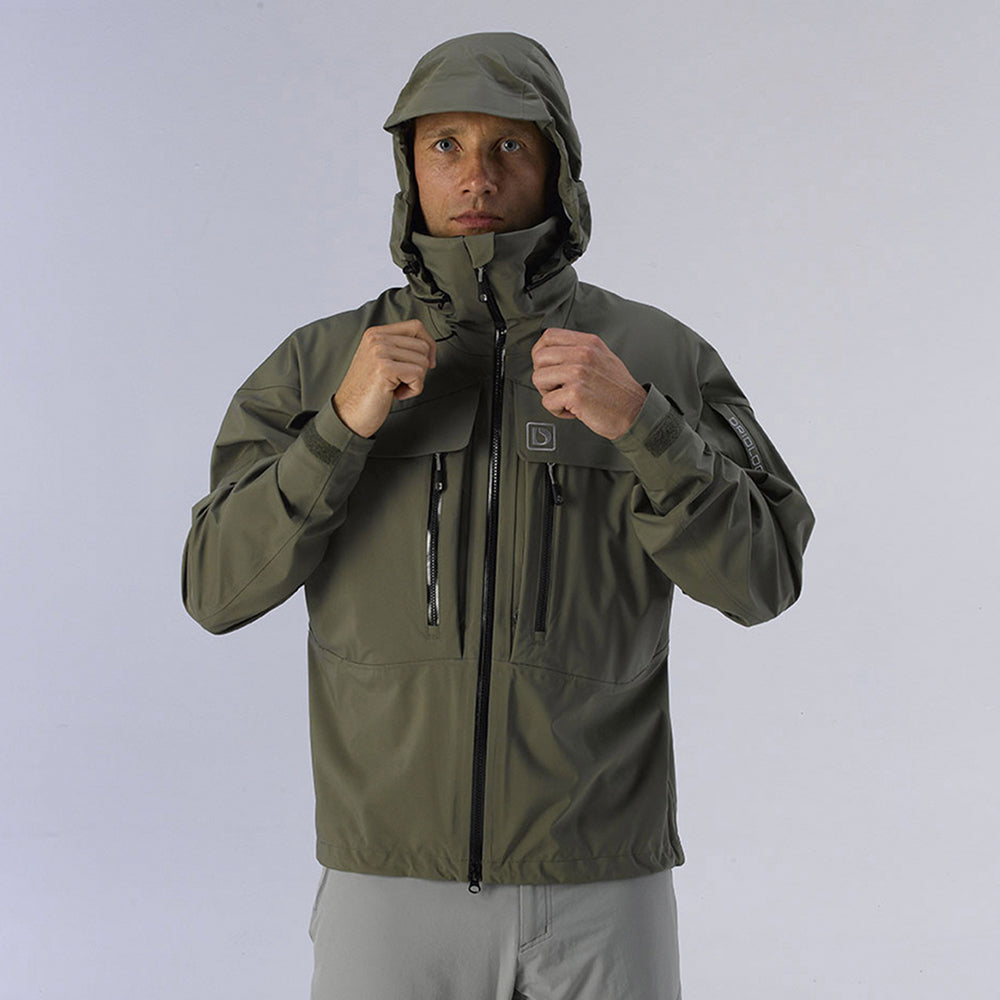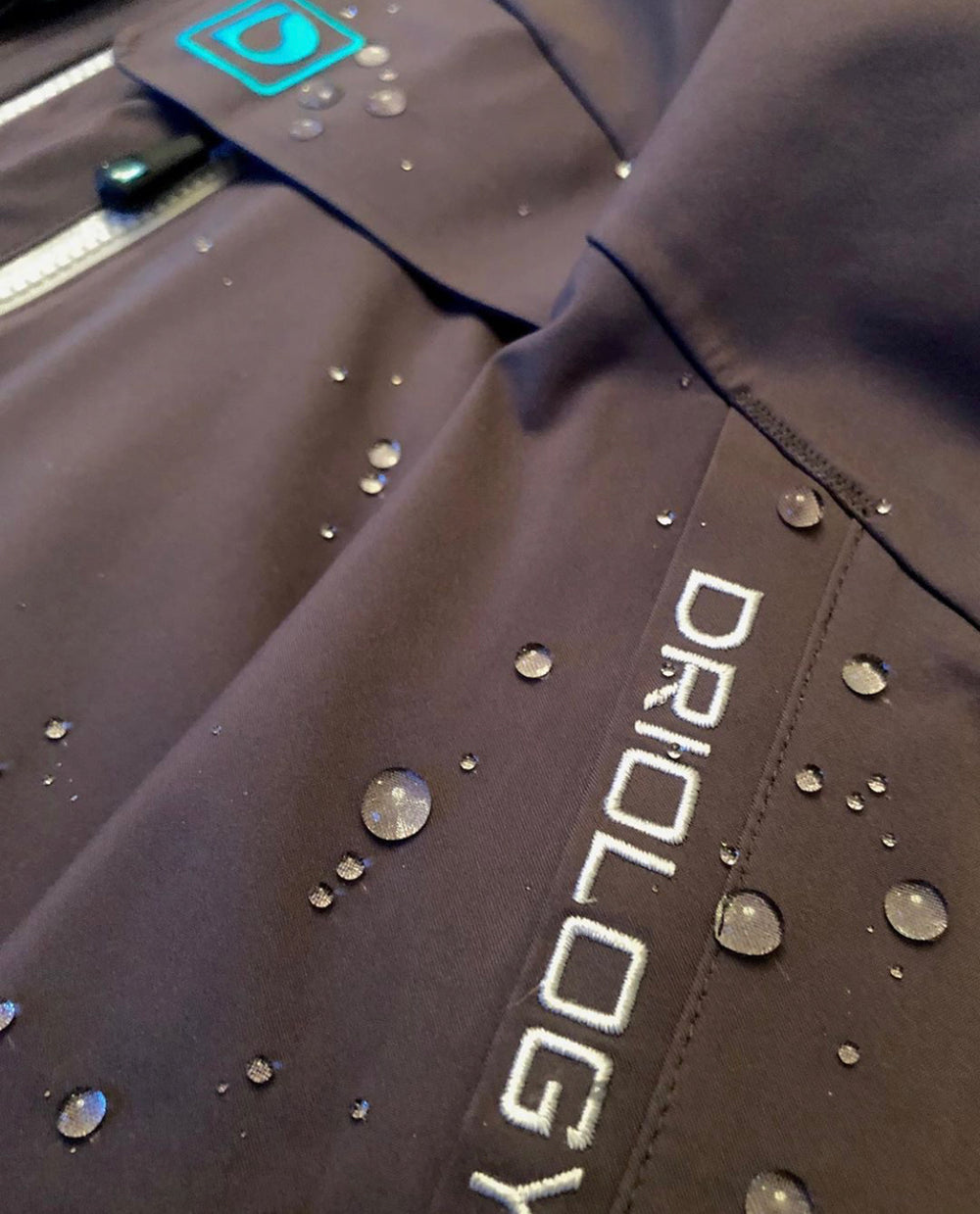 Lotic®
Giving protection, comfort and function. Fully waterproof, breathable Lotic®3L laminate offering a superior hand feel and quiet steal...
Giving protection, comfort and function. Fully waterproof, breathable Lotic®3L laminate offering a superior hand feel and quiet stealth. Intelligent storage solutions for concealing essential tools and lines we need on the river. 9 pocket structuring including our pull out micro fleece hand warmers to promote quick drying. Micro neoprene lined scallop cuff with anti-curl tightening tab. Designed with clean and modern aesthetics to both look great and avoid annoying line catch during the cast. All things considered, an incredible wading jacket.
Read more »
Close ×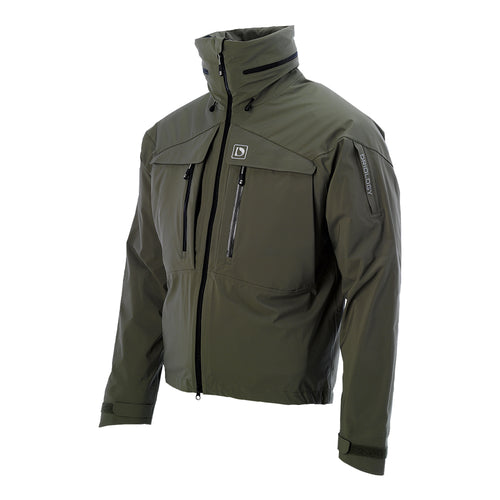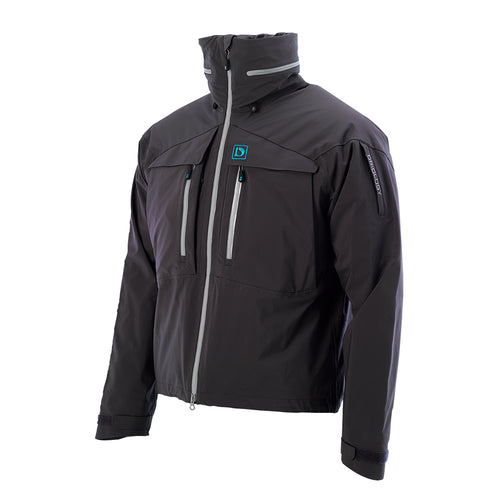 Design Reasons
We need features that are not available with other jackets
So designed them to bring functional compatibility
We need high waterproof performance
20k Hydrostatic head as a minimum requirement
We need highly breathable capabilities
For when we are on the move or chasing the big one down stream
We wanted an exclusive quiet fabric
Lotic®3L Developed to move away from the noise of other shells
We wanted an exclusive fabric with a quality hand feel
Lotic®3L Developed to move away from the crunch other shells
We need ease of movement
Lotic®3L Developed with stretch for full range casting movement
We wanted and needed hidden storage
Every tool, shooting head, line, leader or tippet we "may" need while fishing should have a place. We just don't think it should be on the outside of a jacket. Therefore, we have created unique concealed storage solutions to promote both a clean exterior and to make locating tools and materials easy when we do actually need them. Importantly we also avoid annoying line snagging, which always happens when tools hang on the outside of a jacket. The essentials are still with you "if" needed, they are just securely stored out of harms way.
We need storage for decent sized fly boxes
Without restrictive pulling across the jacket chest area
We need a zipped pull out fleece hand warmer pocket
The few premium jackets that actually have hand warmer pockets usually adhere a thin soft fabric to one face of the back pocket lining. We find that after deep wading the pocket can stay wet for a long time thus compromising its desired function. Our formed micro fleece pocket covers the full hand and pulls out to ensure quick drying.
We needed a high collar that tightens in for full protection
Higher collar protection eradicating wind chill to the face and stopping uncomfortable collar draft when cinched in. Fleece lined for comfort.
We need to vent
We do this by means of the two way zip and hem popper system so the jacket can be fully vented in warm and windy conditions, or on the move, thus avoiding a flapping jacket when fully unzipped.
We need a hood that can be zipped away when required
We found it gets rather tedious when you hood flaps around your face like a flag all day with no option to stow.
We wanted clean aesthetics with a streamlined but comfortable fit
Looking modern and moving away from big boxy oversized jackets
We want a thin neoprene inner cuff lining
So we can tighten very securely and speed up drying time when wet
We do not want to snag our line anywhere on our jacket
Hence housing the press hem adjustment internally and designing the anti curl cuff tab, in addition to our internal tool and line storage solutions.
Technical Features
Lotic®3L 20,000mm HH
Breathability 26,000 MP DWR 80/20
100% Nylon face stretch fabric
Fully adjustable hood with wired peak & tricot lined collar
Roll away collar featuring zipped hood storage
2 way YKK Vislon Aquaguard front zip with internal storm flap channel
2 YKK Aquaguard zipped pull out quick dry handwarmer pockets
YKK zipped LH sleeve pocket
2 YKK Vislon zipped concealed napoleon box pockets with water drains
2 YKK Vislon Aquaguard zipped tool and line management pockets
Shooting head/tippet spool pull out storage organiser
Large YKK zipped back pocket
YKK zipped internal pocket
Adjustable collar opening for added weather protection
Anti-snag velcro adjustable cuffs with micro neoprene internal facing
Two way zip and popper venting system
Anti snag internal hem adjustment
Manufactured in 'Fair Wear' certified factory
Garment weight 775g (M)
VELCRO ADJUSTABLE CUFFS
Anti-lift Anti-snag micro-neoprene internal liner
CINCHING HIGH COLLAR
Protection with tricot lined chin guard & hood stow
YKK VISLON AQUAGUARD
Zipped line tool and box storage pockets
YKK ZIPPED TOOL DOCK FLAP
Hidden tool dock D-ring tool / key clip
TWO WAY ZIP-POP VENTING SYSTEM
Air flow and cooling on warm days
ANTI SNAG INTERNAL HEM ADJUSTMENT
Hem cinch which prevents line snagging
HIDDEN TOOL DOCK
Anti line snagging storage area
SHOOTING HEAD AND SPOOL ORGANISER
Unique drop out line store solution
LARGE REAR POCKET / HIDDEN D-RING
Pack your layers and attach your net
CLEAN LINES
No dangling tools or external line snagging
WEATHER PROTECTION
Zip stow wire peak three way adjustment hood
LOTIC®3L
Our proprietary performance three layer shell developed by Driology in conjunction with leading Japanese waterproof membrane and lamination scientists and fabric mills.
We researched and developed the Lotic®3L fabric to deliberately move away from the crunchy and noisy fabrics associated with waterproof shells. The nylon face fabric delivers a hand feel, comfort and quiet stealth like no other wading jacket. Our highly windproof, waterproof (20k HH) hydrophilic membrane also achieves incredible breathability (26k MP) providing both protection and performance. The hard wearing 100% Nylon face has a two way stretch construction that promotes fully unrestricted movement when in action.